Chinese phone manufacturers Gionee and Lenovo have featured an exquisite range of handsets with brilliant specifications. Gionee has been offering some unique smartphones dedicated to cameras, slimness, and battery, while Lenovo has given its prime attention to deliver the"best" at most competitive price bracket. The battle between these two tech-giants has always been interesting, and now, it goes bigger with Gionee's brings latest sensation ready to take on Lenovo's mighty K3 Note.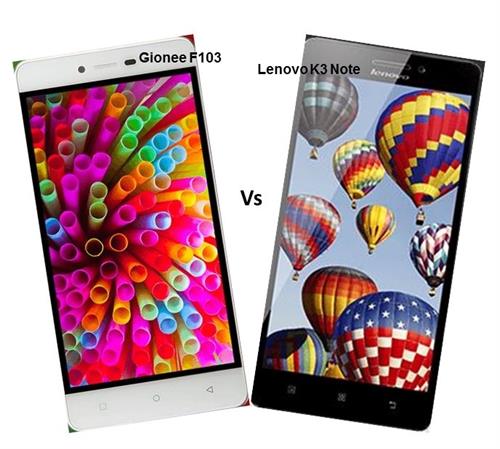 Under the 10k category, Lenovo K3 Note has been dominating as the most powerful and impressive smartphone. The device has been hitting the shelves successfully in India, and brings an idea setup of powerful display, hardware and camera capabilities. Till date, many smartphones have stood against K3 Note, but none of them has actually managed to deliver a better package.Even Gionee, after several ups and downs, has made a comeback with its all new F103 budget smartphone. This phone, undoubtedly promises a lot more than other players, but it still remains to be seen how it battles it out against K3 Note. To know more, check out our detailed comparison-
Design and Build Quality
Expecting a premium build quality or a metal chassis from a budget phone is totally unfair, but when you'll look into these phones, you'll see something a lot better than what comes with so called "cheaply priced phones". At 10k, Gionee and Lenovo both deliver an excellent user experience with sturdy, good looking, and well-built smartphones.
For Lenovo K3 Note, the talk has been going for months, and it still remains the same, that this phone is simply majestic.It is available in Black, White, and Yellow color avatars, and packs a great experience for day to day users.Although it's slightly bigger than standard smartphones, yet there is no problem while holding it or carrying it around.In a nutshell, with its simplistic and matter back-cover, K3 Note looks impressive in the design department.
On the other end, the new Gionee F103 has been crafted especially for the youth of this country. The device features a solid removable back panel, and boasts a golden finish all-around its body, which is made out of metal. It comes in Pearl White and Dawn White & black color options, and is bit more compact and lighter than K3 Note as well.
Display
Like always, this display of Lenovo K3 Note creates a huge line of difference. The power-packed handset boasts a razor sharp full-HD display of 5.5-inches, and delivers a prolific visual experience from all-angles. It features more than 400 pixels per inch, and brings one of the best displays in the sub 10k price category.
The new Gionee F103 also offers a nice visual trip with its 5-inch HD IPS display. But, when taken against K3 Note, it loses quite comfortably due to the lack of pixel count.It features 296 pixels per inch, and is not as dense as the full-HD panel on K3 Note.
Hardware and Performance
Even on the hardware front, there is a big element of difference between Lenovo K3 Note and Gionee F103. The new F103 comes with a quad-core MediaTek MT6735 SoC clocked at 1.3GHz, while K3 Note houses an octa-core MediaTek MT6752 processor clocked at 1.7GHz.
They both pair up with 2GB RAM and promise top-grade performance, but when you'll consider their processing speed and number of cores, you'll know which one is a better choice.Gionee F103 certainly makes it possible run graphic intense games, but it's not the first choice under 10k.K3 Note is the one, it handles multi-tasking and graphic intense gaming quite easily, and delivers best user-experience with no Snag whatsoever.
Camera Quality
The camera setup of Lenovo K3 Note includes a 13-megapixel rear and a 5-megapixel front-facing shooter. It delivers good looking shots in different environments, and offers a great photography experience with an easy to use camera app offering different modes for different scenes.No doubt, it'sone of the finest cameras under 10k, which can produce great stills featuring fine details, rich colors and better contrasts.
The camera setup of Gionee F103 is good, but it cannot match Lenovo K3 Note by any means. The new device features an 8MPback camera with autofocus and LED flash, and a 5-megapixel front-facing snapper. It serves quite well in day light conditions, but when you'll go in dark or take macro-shots, the image quality will get dull and washed out. The white saturation is not good at all, and you might not get detailed oriented captures in one go. The camera setup of handset is bit of a disappointment.
Battery Performance
As for battery life, there is again no comparison between Lenovo K3 Note and Gionee F103.The new Android Lollipop based-handset from Gionee features decent support with a 2400mAh battery. It offers sufficient juice for standard users, but is not likely to impress those who prefer heavy gaming or those who' realways on the move.However, with Lenovo K3 Note, things are bit different.The device offers a better package with a humongous 3000mAh battery, and lasts much longer than F103.Whether 3G, 2G or Wi-Fi, you can easily expect more than 20 hours of backup from this mind-boggling handset.
Final Verdict
The new Gionee F103 looks quite promising, but just like other players, it couldn't stand against the stunning display and prolific hardware capabilities of Lenovo K3 Note. At a price tag of Rs. 9,999, K3 Note is the ultimate phone which brings the best of all elements without any issues. You can expect top-of-the line performance from this handset, and can also watch crisp videos with ideal color reproductions and better contrasts.
Therefore, if you're feeling puzzled in making a choice between Gionee's latest F103 and Lenovo K3 Note, we'll say, don't waste any more time and go with K3 Note. The device has been rolling successfully since months, and is way better than any other smartphone available under 10k.