Owning and having the freedom to design your own space is a dream come true. One would think that with all the ideas and designs easily available online, everything is easy and wouldn't require much effort. While designing your condo can give you the liberty to make all the stylish choices that would fit your taste and lifestyle, it is important to think about practicality, longevity, and cost into your design process.
Selecting the furniture, wallpaper, and paint or deciding how your place will look may seem fun and simple, but it can be a frustrating process, especially if you don't know what things to consider in every step. To avoid the common mistakes most people do when decorating their condos and to improve your design process, here is a step-by-step guide to achieving the look of your space with no regrets.
Realize Your Own Style
Photo courtesy of stokpic via Pexels
A good interior design starts with a concrete plan. Do you like the traditional design where walls separate rooms or do you prefer a modern design? When choosing a floor plan, consider which will meet and would suit your needs better, think of the furnishings and other components.
Plan about the color palette you would want to use for your condo. This can be tricky if you don't know what colors will go best together. So the first thing you should do is to take note which rooms are visible to one another. After that, you may choose a color for the biggest room in your condo or your preferred room. Build your color palette of the same hue—this does not only give your place design and depth, but this is a safe move to make sure that colors go well together. You can always check the Internet for condo design ideas.
Design Within Your Allotted Budget
Photo courtesy by breakingpic via Pexels
Now that you have a design in mind, it's time to look at your finances. Create a breakdown for your expenses, such as the flooring, furniture, accessories, paints, and other components that you will be needing. Visiting stores can give you concrete ideas on how much these cost. Lastly, don't forget about the expenses for hiring a designer or handyman.
Get Help from the Right Designer
Photo courtesy of kaboompics via Pexels
When you feel like you are all set with your plan, it's time to get advice from an expert in home design. Designers can help you a lot with interior decorating. They can give you advice with the spacing and layout of your furnishings, lighting, etc. They can keep you on budget by knowing where to go for resources that you need for your condo, and they can also help you save time going through a lot of visiting and researching for products and costs. They can improve your plan, add a few more details to the overall aesthetic of your place, and help you maximize your small space.
But what qualifications will you look for in a designer to make sure you're working with the right one? First step is to check their credentials. An accredited designer will ensure you that you are working with someone who has the knowledge and experience to do the job. Next is to review their portfolio. Have a list of your prospects and narrow them down to those whose works attract you.
Choosing Your Furniture Like a Pro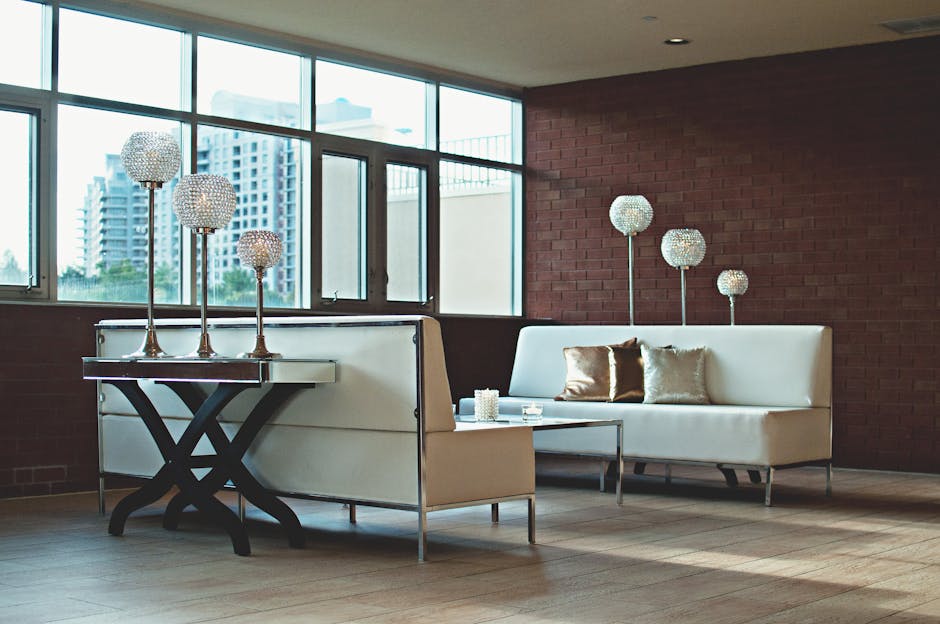 Photo courtesy of Scott Webb via Pexels
Choosing furnishings can be fun yet daunting because it's not just about buying the ones you see and liked at a store. There are practical and aesthetic considerations that you need to make before deciding to buy.
When it comes to furniture, function is an important consideration. Ask yourself first what furniture you need in each room, but don't forget to consider the needs the people in your condo. Choose those that are ergonomic and with good quality that will last for many years. Next to consider are the size, dimensions, and shape based on the size of your rooms. Lastly, style and color. Pick those that will complement the overall look of a room. If you can't decide on yourself alone, ask for your designer's advice.
The Ideal Lighting For Your Condo
Photo courtesy of Unsplash via Pexels
Choosing lighting fixtures are as important as the other details in your condo design process. And like the others, there are also considerations that you need to remember to make sure that it goes well with the overall style of your place and make it more inviting.
Determine where you need good lighting. Placing a large lamp or a nice chandelier in your entryway is a great choice to set an appropriate mood for your visitors. For the kitchen and living room, multiple light sources can help give you a number of functions and activities. For example, choose a floor lamp next to your favorite couch where you always read a book. For high ceilings, recessed lights are recommended. These can give your room a range of lighting, from dim to full brightness.
Using the Right Wallpaper to Complement Your Style
Photo courtesy of laurenzeiner via Pixabay
Wallpapers can give rooms more life and make it appear bigger and brighter. If you want to include this in your condo design, decide where you need it first and then factor in the durability. You wouldn't want to put fragile and expensive wallpapers in a kid's room. There's a large variety of prints and textures to choose from that will complement the style of your condo.
Metallic wallpapers can add sheen to a room, and sets a moody, sexy appearance. If you want an organic type, grass-cloth wallpaper is a good choice. It is made from strands of grasscloth that are meticulously woven together. It also creates texture in a room. But if you're on a tight budget, you can always opt for a vinyl one without compromising quality and design.
Amplifying Small Details
Photo courtesy of Hans via Pixabay
Small details also make a big difference. These include the placement of your windows where you place your furnishings, the texture and color of your flooring, and the fabrics you use. If you can't exactly get the look you want, ask for the advice of your designer to make sure that every design is complementing one another.
—————-
Author Bio: Christopher Britton is an Interior Architect, Home Security Consultant and a Writer. He often writes about home improvement, home security and privacy, green and simple living, geometric and structural designs, technological home advances and home design. He is into sports and a travel enthusiast.