Do your friends always recruit you to do their hair before a particular event? Do they regularly seek your makeup advice? If you have a talent for making people look their very best and would like to be paid for your services, you may want to consider a career in cosmetology.

Imagine. You can do something you love and earn a paycheck doing it. And, as a bonus, you can receive a sizeable chunk of your training in the comfort of your own home. Yes, thanks to a growing number of online course offerings in the cosmetology industry, entering this field has never been easier.
What makes online training an attractive option for many hopeful cosmetologists? While people choose this route for many reasons, here are a few of the most common motivating factors.
Convenience
What could be more convenient than picking your study hours and "attending" class in the comfort of your own home? Nothing. The flexibility of online learning enables students with jobs, family commitments, and other time constraints to earn their degree by setting their study schedule. And, think of the time you can save by avoiding the commute to campus.
Pace
Another attractive feature of online learning is that you have greater control over how quickly or slowly your move through the course material. If you find an individual task more difficult to master, you are better able to spend more time becoming proficient. Conversely, "3 Reasons to Choose an Online Cosmetology School" adds that you can also finish the course much faster than traditional in-class courses if you feel able and motivated to do so.
Preparation
You can't learn the art of cosmetology without hands-on training; therefore, it stands to reason that you cannot earn your entire degree online. Practical in-class work is required. You can, however, take an online course designed to prepare you for your state licensing exam. An online prep course will not only increase your likelihood of success, but it will also dramatically elevate your self-confidence before the big day. Study.com does warn, however, that since licensing requirements vary from state to state, you should check with the National Accrediting Commission of Cosmetology Arts and Sciences to verify the suitability of your chosen program.
Ease
Many people are surprised when they learn that taking an online course, typically, does not involve acquiring any special equipment or computer software. Most online cosmetology courses–like traditional on-campus ones–will require that you buy certain tools of the trade and school books. You will also need access to a computer and the internet. But, the odds are that you will not need anything else. "Online Cosmetology Courses, Certificates, and Online Classes" adds that since all programs are different, it is important to learn about your course's requirements before enrolling. This will enable you to avoid courses with costly necessities.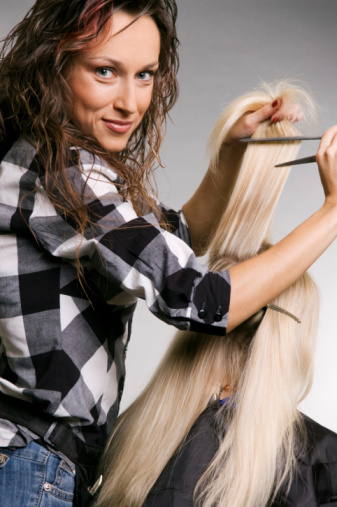 Your friends and family, apparently, value your talents immensely. Why not put your skills to work elevating your bank account balance by becoming a licensed Cosmetologist? Your future clients–and your bank account–will thank you.
What is your favorite discipline–hair, makeup, nails, or facials? Why?