The very thought of Minneapolis takes you on a fantasy ride of some of the most amazing places on Earth. So without wasting anytime, let's jump right into some really fun places you can visit while you are in Minneapolis:
1.    Minneapolis Institute of Art
The institute house more than 83,000 artworks that have spanned for over a period of 5,000 years. If you are an art lover and you happen to be in Minneapolis at the same time, there is no better place to be than visit Minneapolis Institute of Art.
It has Ancient Egyptian artifacts to European masterpieces. The exhibits by artists such as Titian and Monet are there. Visitors have also expressed this place as the perfect fit for all age groups. Children will love the new scavenger hunt offered to them by the management of the institute.
The institute is open from Tue-Sat, 10 to 5pm and the admission is free. On some days of the week, longer visiting hours are available. At least keep to yourself 90 minutes to have the full experience of the institute. Car parking is at your disposal plus all forms of transport can be accessed to reach it.
2.    Chain of Lakes
Chain of Lakes captures the essence of Minneapolis and is often dubbed as a must sight for visitors to understand this city. A total of 10,000 lakes makes up the famous Chain of Lakes. You can also take a stroll around the metro while visiting and the popular lakes among these are Lake Harriet, Lake Calhoun, Lake of the Isles, Cedar Lake, and Brownie Lake.
The best part that each lake site has something different to offer. Some live music, others a bird sanctuary, boating/biking rentals and the likes thereof. The Chain of Lakes is open to all year round. Lake can be accessed for free but charged parking rates may vary lake to lake.
3.    Guthrie Theater
The nation's most renowned theater, it was established in 1963. The first production was that of 'Hamlet'. It incorporates both traditional theater plays and modern day productions. Aside from its main attraction, the Guthrie Theater offers an in-house fine dining restaurant, a couple of casual cafés and cocktail lounge.
If you miss out on a show, by chance, delve yourself into exploring the tour of the theater instead. There are free to download audio tours that you can avail to take aself-guided tour or you can also pay to have the tour of backstage, and costume/architecture tours. Hours of touring and relative prices depend on the type of tour you undertake.
4.    Minnehaha Park
The park is spread alongside the banks of the Mississippi River. It is a 193-acre park and is a popular attraction for visitors throughout the year. It is famous for its 53 ft. long Minnehaha Falls. The significance of the Minnehaha Falls is that it used to be the Native Americans' precious site which supplied power to a mill at the time.
During summer, the Wabun wading pool and Sea Salt Eatery are open; adding to the attractions of the site (should you plan to visit in summer). The park is open from 6-10pm and the parking is free. To know more about their tourist spots or periodic hours visit their official website.
5.    Stone Arch Bridge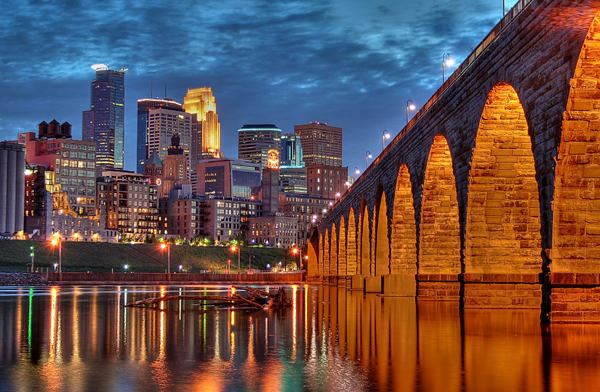 If you are into architectural designs than Stone Arch Bridge is the landmark to behold! Why? Because it is a 2,100 ft. granite and limestone bridge which includes some 23 arches. It is historically important as well as it was constructed in 1883 which enabled the movement of goods from in and out of the city possible at the time.
You may prefer to view Downtown Minneapolis from the bridge's post and mind you the view is no short of stellar! Do not forget to carry a camera to capture the skyline shots. You will also find Guthrie Theater (above) less than a mile from the bridge's west side entrance. More-to-do in this vicinity is to explore several restaurants, eateries, and a movie theater.
Now that you know what things to do when in Minneapolis, we wish you a bon voyage!
Author Bio:
Catherine Daisy is a Travelling Enthusiast and a Blogger. In her leisure time, she takes out time for learners and students and offers them assignment help service. His blogs reflect experiences of his personal excursions including everything from cuisines, shopping, and road trips.